Number 9 Works For You In Many Ways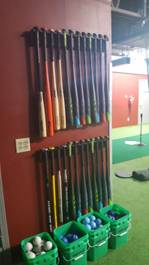 Hitting is an individual thing and we can work on that with...
...a series of lessons, groups, a single lesson, etc. From high school to college. Teaching the game is about helping each player get better.  This includes both physical and mental aspects of hitting. We have weighted bat training groups that are sessions limited to 8 players meeting twice a week, hit your potential in 7 days programs designed for individuals who need a complete swing reset of core movements and many other ways to improve players.
Several examples of player improvements coming through our hitting lab. The first here is a Juco player who came to the Lab in the Winter of his Freshman year . These two videos are from that time and the before/after is about a month apart.
He made impactful changes through a series of individual lessons. Note more relaxed stance and bigger loading process on the right. While this style takes a bit longer to load, by starting slower and earlier, he has a quicker swing upon toe touch.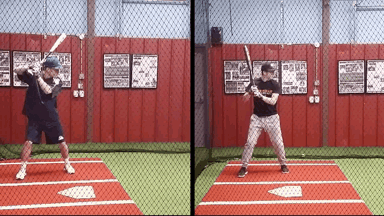 Notice the better launch position on the right. Hands are a bit lower and separation of lower and upper half is increased. Note the barrel getting to the ball quicker. This is very important and provides this player with more time against better college pitching.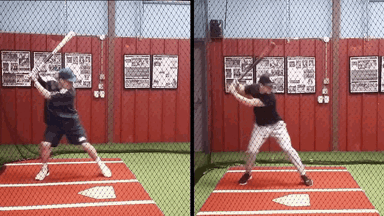 As a sophomore, this player returned to Number 9 Lab, as soon as the Fall Semester began. Our focus was getting quicker and we worked on bat speed and hand speed. I couldn't be more proud of the work this player put into the game of baseball. He had a standout Sophomore campaign for his college team and was the top hitter for AVG and OBP in the MWAC, which has a lot of talent in the conference.
There are a lot of players who want to be really good, but to be really good, there are no shortcuts. This player is one of those tireless workers, always wanting to improve. If you put in the effort and get the right coaching for you, you can improve, too.
HS Varsity Softballer!
Look at the downward path of the bat in the Before, as well as the axis of the swing plane. Much better attack angle After. The improved barrel path is significant for stronger and more consistent contact. This player is going to play college ball and demonstrated the ability to hit more hard line drives and extra base hits than she had previously been able to do.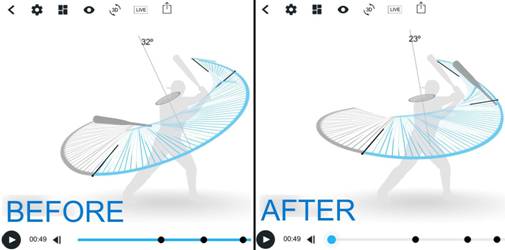 Please note: These swings may not be perfect, but they represent positive changes that a player has made!